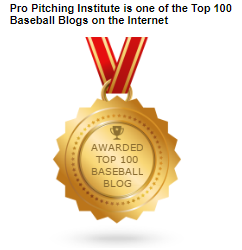 If you're like most Pitchers, you measure the changes you make to your motion by tracking your results.
Trying to improve your results by measuring your results doesn't make sense???
A Better Measurement
Let's work backwards into a more realistic measurement.
Improved results come from your lower body sending your pitch into your target.
To get your lower body to pull your throwing arm into release, your lower body must rotate into the end of your stride.
To end your stride with a lower body rotation, you must come out of your front leg lift opening your front shoulder to your target.
To open your front shoulder out of your front leg lift, you must end your front leg lift with your weight balanced between your knees.
Therefore, when you make your weight distribution at the top of your front leg lift your sole focus, you can count on your results to quickly and permanently improve.
Need Help with Your Results?
The Pro Pitching Institute teaches the 3 simple movements guaranteed to end your front leg lift with your weight between your knees.
Want to simplify your pitching motion while you permanently improve results? Contact us.
Coach Skip Fast
Pro Pitching Institute
"Winning Pitch Location Strategies©" Author/Coach
E-Mail: skip@propitchinginstitute.com
Cell or Text: 856-524-3248
#ElitebyChoice
Copyright © 2020, Pro Pitching Institute.