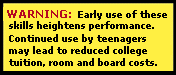 one pitching session teaches and

guarantees

* command.
 A COPYRIGHTED, 6-STEP PROCESS puts your Body in a position to guarantee* you hit your target!
Your Lower Body engages your entire body,

You regularly repeat the identical pitching process,  and

You hit your target upwards of 5 out of 10 pitches.
AN ALL-ENCOMPASSING, NATURALLY BALANCED PITCHING PROCESS DESCRIBES YOUR MOTION.
When you miss your target, you have a list of 6-things to do in the proper order.
You go to the list, reinforce the skills you missed, and find your target.
Over time, all the steps become natural, extremely automatic, and exceptionally involuntary.
We don't talk about command, WE TEACH COMMAND!!!
Right Now, Your throwing Arm delivers your pitches.

You're at a  loss how to get your Lower Body involved,

You

don't

know where your pitch ends up, and
You want to hit your target, but you don't know how?

NEXT OUTING: Improvement is virtually impossible!
After an outing, you go into the dugout, perhaps (or want to) throw your glove in frustration, and wonder whether the next outing adjustment is your Foot Positioning, your Back leg, your Front Leg Lift, your Stride, or your Throwing Arm. What you fail to realize is that you make an ARBITRARY change and you're going to go through the same exact procedure on your next outing.

YOU FOLLOW ALL THE ADVICE YOU SEE ON YOUTUBE, ONLINE ARTICLES, MAGAZINES, OR EVEN IN-PERSON SESSIONS WITH OTHER COACHES, AND YOU STILL CAN'T CONSISTENTLY FIND YOUR TARGET!
1-pitching session delivers the ball to your target with uncanny regularity … enroll today!
Instruction Costs and Training.
11-Year-Old and Older Pitchers …
1-Hour Sessions

Your Session covers whatever your motion presents.
If interested, simply fill out the form below or call Coach Skip!

Your first session is $200 50 (or Free*)!

Dates

Tuesday, June 13th, 6-7 PM for 11-13-year-olds.
Wednesday, June 14th, 6-7 PM for 14-18-year-olds.
Thursday, June 15th, 6-7 PM for 19 year old and up.
Tuesday, June 20th, 6-7 PM for 14-18-year-olds
Wednesday, June 21st, 6-7 PM for 19 years old and up.
Thursday, June 22nd, 6-7 PM for 11-13-year-olds.

Other Reminders …

Instruction occurs on an Astro-Turf platform at

 

91 Fairmount Drive, Sicklerville, NJ, 08081.
Sneakers are preferred on the Astro-Turf.
Cash or Venmo is accepted.
Homework is recommended.
Text Reminders are sent to all Pitchers.
… or call Coach Skip!
If you want follow-up, the 2 sessions will cost $200 50 each and cover the Wind-up, Change-Up, and Slider!
Other Command Producing Opportunities
Advanced Self-Coaching Guide | Advanced In-Person Instruction in South Jersey | Video-Driven/Smart Mitt Development