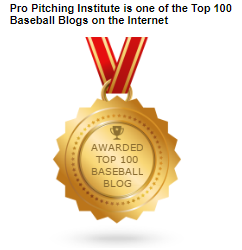 Producing Million$ pitch location is a learned skill.
When you know how to end your front leg lift with your weight centered around your core, you're able to send your throwing hand through a predetermined release window with uncanny certainty.
Words matter.
By telling yourself to place your feet in the right spots, at the top of your front leg lift, your next words center your weight between your knees and keep your glove side free to move the way you want.
Your next command spins your body down the mound and your spinning action turns your pitch location into an expectation.
What Happens When You Spin Down the Mound?
When you spin out of your front leg lift, your spin signals your body to get your front foot back on the ground.
Your front foot hitting the ground stops your lower body rotation, and your twisted posture forces your upper body to send your throwing hand through the same productive, and surprisingly accurate release point.
Simplify Your Pitching
When you use the right foot placements, the right words in the right sequence will produce the Million$ pitching results you need to succeed in a sport built around failure.
Want to simplify your pitching results? Simply set up a free 15-minute conversation to talk about next steps.
Coach Skip Fast
Pro Pitching Institute
"Million$ Pitcher Pitching Strategies©" Author/Coach
E-Mail: skip@propitchinginstitute.com
Cell or Text: 856-524-3248
#ElitebyChoice