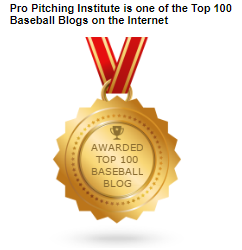 Hi, I'm Coach Skip and I have a simple way to improve your command.
Complicated Command
You don't realize it, but, throughout the motion, your Throwing Arm is involved with your balance, and, because of this, your Throwing Arm commands your pitch.
Everything feels normal, but your location is spotty.
Command is Simple
On the other hand, your best command comes from landing your Front Leg lift, then coming into your motion.
Your starting position places your weight just in front of your Back Foot, your Front Leg is free to rise without hurting your balance, and your Glove Hand has your Lower Body send your pitch to your target.
Your Throwing Action creates your command.
Resolution
Want to know more about your pitching process?
Visit the Pro Pitching Institute.
* Coach Skip will teach you how to send a much large portion of your pitches directly to your intended or your instruction is free … No questions… No hassles… and no hard feelings.
Coach Skip Fast
"The Pitching Process Doctor"
Pro Pitching Institute
+1-856-524-3248
skip@propitchinginstitute.com
http://propitchinginstitute.com
#ElitebyChoice
Copyright © 2022, Pro Pitching Institute.