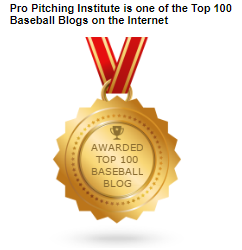 My name is Coach Skip and I'm about to teach you how to level your hips.
Your Hips
Uneven Hips at the top of your Front Leg Lift take your motion out of balance.
At the top of your Front Leg lift, you want your Front Hip to be even with your Back Hip.
How?
You get your Hips to be level by keeping your Front Knee in front of your Front Hip and your Front Foot in front of Back Foot.
In this way, your Hips are level, and the ball goes to your target with uncanny regularity.
Accomplishing This?
Want to end your Starting Position with your Hips level?
The Pro Pitching Institute teaches you to manage your Hips, or your instruction is free … No questions… No hassles… and no hard feelings.
Coach Skip Fast
"The Pitching Process Doctor"
Pro Pitching Institute
+1-856-524-3248
skip@propitchinginstitute.com
http://propitchinginstitute.com
#ElitebyChoice
Copyright © 2022, Pro Pitching Institute.