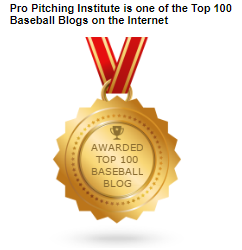 I'm Coach Skip and I'll teach you how to send a much large portion of your pitches directly to your intended or your instruction is free … No questions… No hassles… and no hard feelings.
What Not To Do
Starting your Glove Hand movement above your Elbow causes a problem.
Your movement triggers you to use your Throwing Arm for balance and using your Throwing Arm for balance produces poor results.
What To Do
From a good Starting Position, your Glove Hand being below your Elbow and your Glove Hand Palm pointing toward Home produces better results more often.
Your Glove Hand moves toward your target and the pitch follows your Glove Hand.
How To Accomplish This?
Want to know more about your command?
Visit the Pro Pitching Institute.
Coach Skip Fast
"The Pitching Process Doctor"
Pro Pitching Institute
+1-856-524-3248
skip@propitchinginstitute.com
http://propitchinginstitute.com
#ElitebyChoice
Copyright © 2022, Pro Pitching Institute.