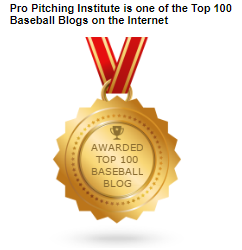 Hi, I'm Coach Skip and I teach lower body engagement.
When does Your Body fail?
You don't realize it, but your arms are used to keep your body in balance.
You either use your arms for balance and deliver the ball to your target or your body is in balance, and you deliver the ball to your target.
When does Your Body succeed?
The difference is your starting position.
A balanced starting position promotes accuracy.
You get into your starting position and use your glove hand position to place your pitches.
The Resolution
Nothing can be simpler!
Feel free to use my do-it-yourself pitching program or my in-person, South Jersey pitching sessions to improve your motion to get your starting position in balance.
Until next time, I'm Coach Skip telling you your lower body is teachable.
Coach Skip Fast
Pro Pitching Institute
"Pitch location by choice, not chance!"
+1-856-524-3248
skip@propitchinginstitute.com
http://propitchinginstitute.com
#ElitebyChoice
Copyright © 2022, Pro Pitching Institute.