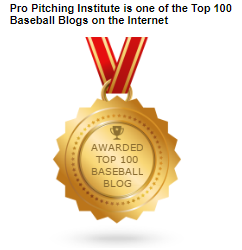 The correct Foot Distance promotes great Glove Work and exceptional command.
Your Foot work
When your Foot Distance between your Feet is greater than one baseball width, your weight goes on your Back Foot.
From the Back Foot, your Throwing Arm moves your weight from your Back Foot to your Front.
Instead of getting involved with your command, this motion prompts your Throwing Arm to be engaged with your motion's balance.
Your Glove Work
When your Arm is used to balance your motion, your Glove Arm reacts to your Throwing Shoulder.
Your Throwing Arm Shoulder comes to your target and your Glove Work path follows your Throwing Arm.
Your Glove Work remains inconsequential and ineffective.
Your Command
You change your Foot Positioning, and your point of balance is at a point that's directly in front of your Back Foot.
Now, your Glove Work controls your Throwing Arm.
The ball goes into your target with uncanny regularity, your Throwing Arm always shows fastball speed, but the ball takes on the look of your Grip.
Better Positioning
For your Glove Work to control your command, you need your Foot Positioning to be in balance.
The Pro Pitching Institute teaches you to begin your motion with your Feet close together, or your instruction is free … No questions… No hassles… and no hard feelings.
Coach Skip Fast
"The Pitching Process Doctor"
Pro Pitching Institute
https://propitchinginginstitute.com
856-524-3248
skip@propitchinginstitute.com
#ElitebyChoice
Copyright © 2023, Pro Pitching Institute.