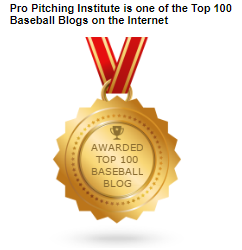 In pitching, as in everyday life, your body always returns to a balanced state, and, when in balance, you have a choice of how you want to move your arms.
Why Your Pitches Miss Your Target?
There's a good chance you're swinging your front leg into your front leg lift and, to move down the mound, you have to reverse your front leg swing.
When your front leg swing sends your Body toward your target, your Body uses your throwing arm for balance, you lose control of your throwing arm path, and you `1`1can only hope your ball ends up where you want.
Command Your Pitches.
On the other hand, your command immediately improves when your foot placements allow you to lift your front leg into your front leg lift.
By eliminating your front leg swing, you free your glove arm to create the imbalance that'll trigger your lower body to send your pitches directly into your intended target.
Secrets to a Balanced Front Leg Lift.
Here's a tip … You're more likely to command your pitches when your foot placements, legwork, and front leg lift work together to keep your glove arm free to deliver the command needed to keep your pitching dreams alive.
Need help with your command`? I'm waiting for your call.
Coach Skip Fast
Pro Pitching Institute
Turning the need for command into an expectation.
+1-856-524-3248
skip@propitchinginstitute.com
http://propitchinginstitute.com
#ElitebyChoice
Copyright © 2022, Pro Pitching Institute.